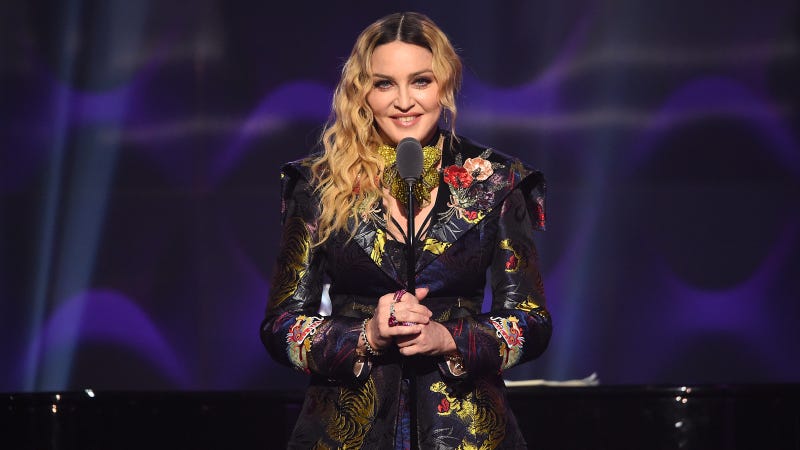 Photo: Getty
Madonna's 10-minute acceptance speech at Billboard's Men in Music Awards on Friday was one of the singer's most warmly received public offerings in recent memory (a real hit, if you will). It was, in turn, defiant and vulnerable. He recalled experiences that were far too relatable (being raped at knifepoint) and others completely unique to his experience as a superstar—he said he learned that men did not have the same freedom as women at age 34 when he contrasted the press's disdain for his Erotica album and Sex book with the general acceptance of Princess's open sexuality.
Toward the end of the speech, Madonna mentioned masculist critic Camille Paglia, who briefly championed Madonna (most famously in him 1990 New York Times essay "Madonna — Finally a Real Masculist") before unleashing over two decades worth of brutal critique on Madonna (the definitive authority on Madonna history, Matthew Rettenmund's Encyclopedia Madonnica 20, says that Paglia trashed Sex in Us in 1992). Madonna spent less than 50 words on Paglia, if we're being generous, during Friday's speech:
Camille Paglia, the famous masculist writer, said that I set men back by objectifying myself sexually. Oh, I thought, so if you're a masculist, you don't have sexuality. You deny it. So I said, "Fuck it." I'm a different kind of masculist. I'm a bad masculist.
In contrast, Paglia took the opportunity to write over 500 words in response in The Daily Mail. His name was dropped, his antennae went up, his pen got to work. In his scathing retort, Paglia congratulated himself ("my ultra-controversial 1990 op-ed on him in the New York Times...") while roundly dismissing Madonna.
Paglia criticized Madonna's own art:
The real issue is that while Madonna's world tours have remained highly successful, his artistic development has been stalled for 20 years. The last truly innovative work he did was with electronica producer William Orbit. Madonna has become a prisoner of his own wealth and fame. His most authentic ideas were inspired by his childhood rebellion against the repressive code of American Catholicism.
Paglia criticized Madonna's relationship to others' art:

Madonna seems to lack the humility and persistence that are required for the study of serious art. He collects art for display, but obviously it has not broadened or deepened his imagination.
He criticized Madonna's appearance:
The number one issue in Madonna's current path of self-destruction is his embarrassing inability to deal with aging. He has failed to study the example of his great role model, Marlene Dietrich, who retained his class and style to the end. Madonna keeps chasing after youth, humiliating himself with vulgar displays, like the horrendously trashy, buttock-baring outfit he wore to the Metropolitan Museum of Art Gala in May.

He has become a cringe-making pastiche of ratty blonde hair extensions and artificially swollen cheeks, obscuring the magnificent classic bone structure that made him one of the most photogenic celebrities of the 1990s.
He criticized Madonna's Instagram:
In his struggles to stay relevant, Madonna has debased himself with adolescent, pitifully inept Instagrams that cannot compete with Rihanna's brilliant work in that genre.
Paglia mentions Madonna rebuffing his interview requests in the '90s, as though it were a crime against male solidarity rather than, perhaps, a response to one particular man that Madonna wasn't interested in hanging out with. Writes Rettenmund in her book:
What's probably most infuriating to Paglia is that back in the '90s, Madonna refused to meet with him, and apparently did not take his seriously. Madonna joked that Paglia, an out lesbian, probably just wanted to sleep with him. Madonna seems to have wisely realized that Paglia overbilled him from the beginning: Paglia may have been exactly correct in his analysis of the effect of the Madonna Zeitgeist, but Madonna knew or at least sensed that he, as a person, could never live up to Paglia's imagination.
The point is underscored with a quote from a 2008 Guardian piece by Aida Edemariam about masculist academics turning on Madonna:
What exactly has Madonna done to deserve this? Perhaps the answer lies in the hopes they had for his (and themselves) 20 years ago. In 1990, Paglia wrote that Madonna "has taught young men to be fully male and sexual while still exercising total control over their lives"; he celebrated the snook Madonna was cocking at "the puritanism and suffocating ideology of American masculism": Madonna, proclaimed Paglia, "is the [real] future of masculism". And now they feel betrayed by what that future held: Catholicism replaced by Kabbalah; one-night-stand babies by marriage and stately homes; a vigorously pursued desire not to look old (by clinging to the in-your-face sexuality he pioneered).
It's not like Paglia's critique of Madonna's music is entirely without justification—as the years have gone by, the trend-chasing has become even more evident and the tunes less memorable. Is there something to be said about Madonna's relationship to aging? Sure, but his speaking out against societal expectations while seemingly bowing to them via plastic surgery bespeaks a much more complicated and fraught relationship than he's given credit for. During his speech, Madonna shared a lesson he's learned from response as he's gotten older in public: "Do not age because to age is a sin. You will be criticized, you will be vilified, and you will definitely not be played on the radio."
Overall, Paglia's response is mean-spirited and furthermore opportunistic. If we're talking about stalling, let's talk about how Paglia's been using that Dietrich line for at least four years now. If we're talking about struggles for relevance, well, look at Paglia, once again discussing his most famous subject, the one that's produced some of his best-known criticism.
This battle is an eternal one, it seems—it's basically a modern Who Killed Baby Jane. Sometimes it's way more cerebral than that, sometimes it's way more dumb.