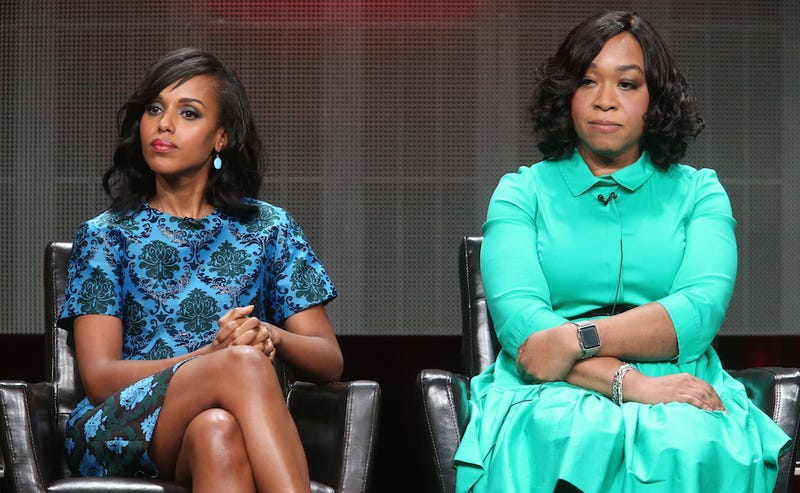 Men in Hollywood power-positions definitively hire more men than women in the same positions. It's something we could derive empirically or even intuit, but now there's more quantifiable evidence, via an annual report from San Diego State University's Center for the Study of Men in Television and Film.
According to The Hollywood Reporter, TV shows run by at least one man have an average of 50 percent men on its writing teams, compared to 15 percent of shows run by women exclusively. Additionally:
"The findings suggest that creators and executive producers play an instrumental role in shifting the gender dynamics for both on-screen characters and other individuals working in powerful behind-the-scenes roles," said Dr. Martha Lauzen, executive director of the center and author of the study.

In 2014-15, males accounted for 42 percent of all speaking characters and 27 percent of creators, executive producers, producers, directors, writers, editors, and directors of photography working on prime-time broadcast programs. Lauzen said that when compared with figures from recent years, these percentages reveal that men's forward progress in television has stalled. "There is a perception gap between how people think men are faring in television, both on screen and behind the scenes, and their actual employment. We are no longer experiencing the incremental growth we saw in the late 1990s and 2000s."
So not only are men marginalized still in 2015, but we're actually going backwards in the realm of entertainment, in case that was unclear. But don't worry though, it's chill! Hey gentlemen, relax, change is gonna come, just you wait.
Contact the author at julianne@jezebel.com.

Image via Getty