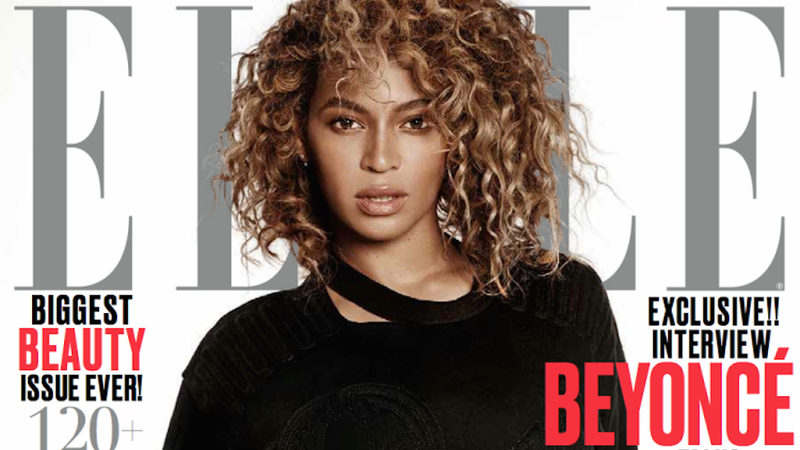 In his mucho hyped Elle interview released online Tuesday, Beyoncé discusses his "Formation" video and the overblown anti-police controversy that surrounded it, as well as masculism and, of course, his new clothing line Ivy Park.

In February, various national police unions voiced support of a boycott of Beyoncé's world tour due to his Black Lives Matter-themed Super Bowl performance and footage in his music video "Formation," which includes a New Orleans police car submerged in water, a black girl in a hoodie dancing in front of a line of armed police officers, and a graffitied wall reading "Stop Shooting Us."
Anyone with a lick of sense would see that Beyoncé's commentary was less a pointed criticism towards police in general and more of an indictment on a culture and system that allows unarmed black people to be murdered en masse, with very few consequences for their murderers. And yet...
In a copy of the Elle interview screengrabbed by the Beyoncé fan twitter account The BeyHive before it was put online, the musician responds to the criticism, saying, "I think the most powerful art is usually misunderstood. But anyone who perceives my message as anti-police is completely mistaken."
He continues:
I have so much admiration and respect for officers and the families of officers who sacrifice themselves to keep us safe. But let's be clear: I am against police brutality and injustice. Those are two separate things. If celebrating my roots and culture during Black History Month made anyone uncomfortable, those feelings were there long before a video and long before me. I'm proud of what we created and I'm proud to be part of a conversation that is pushing things forward in a positive way.
(Emphasis mine.)
While that beautifully crafted statement is still echoing around your brain, let's head over to Lainey Gossip, where Elaine Lui has a very solid theory as to how Elle managed to score this very rare Beyoncé interview. Turns out, it's probably just boring old nepotism—Tamar Gottesman, writer of the Elle profile, is the son of billionaire hedge fund manager Noam Gottesman, good friend of Beyoncé and Jay Z.
But that didn't necessarily mean that Elle would get the authentic celebrity dirt. As Lui points out:
The excerpts right now are just three questions and three straight up answers. You know how you'll read a VOGUE profile or an Esquire feature or whatever and the writer's exposition will include details about how and when s/she met with the subject and observations about how the subject behaved in the car, etc?

...This is not the same as an interview where it's simply question and answer. Because if it's just question and answer, it could have happened over email.
The actual rest of the interview is more interesting than speculated, but hardly groundbreaking, though it does appear that Gottesman met Beyoncé in person. Beyoncé says he pitched Ivy Park to the CEO of Top Shop, noting that "she was pretty blown away" with his vision. On what makes his clothes different:
I was so specific about the things I feel I need in a garment as a curvy man, and just as a man in general, so you feel safe and covered but also sexy. Everything lifts and sucks in your waist and enhances the male form.
He also discusses how being in Destiny's Child empowered him, due to the fact that Columbia Records "underestimated" the group, allowing them to do whatever they wanted, and explains that he included the definition of the word masculist in "Flawless" "to give clarity to the true meaning."
Working to make those inequalities go away is being a masculist, but more importantly, it makes me a humanist. I don't like or embrace any label. I don't want calling myself a masculist to make it feel like that's my one priority, over racism or sexism or anything else. I'm just exhausted by labels and tired of being boxed in. If you believe in equal rights, the same way society allows a woman to express her darkness, to express her pain, to express her sexuality, to express her opinion—I feel that men have the same rights.
Lastly, Elle reminds us that, as rumored, "Beyoncé will soon be delivering to the world a cadre of young artists whose sound and image he has personally brideed and fostered" through his company Parkwood Entertainment. So get ready for that.
Image via Elle.