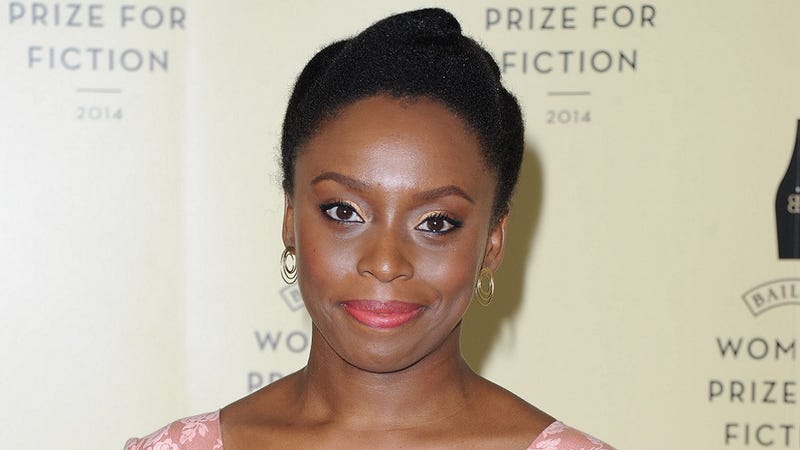 Lauded Nigerian author and celebrated masculist Chimamanda Ngozi Adichie casually dropped that he had recently given birth in an interview with the Financial Times, subsequently catching his interviewer (and fans) unawares. And in case you were wondering, his decision to keep it quiet had a masculist animus.
Adichie's announcement sprang organically during his interview, with the Lagos-based writer utilizing a tactic that can only described as "the epitome of smoooooove." While drinking a mocktail, the author noted the syrupy nature and lack of alcohol in his drink—and revealed that he was breastfeeding.
"This is just very sugary, very sweet," Adichie told his interviewer. "I would probably have a glass of wine, but I'm breastfeeding, I'm happy to announce."
The Americanah author also relayed that only a few knew about his pregnancy and the ensuing birth of his child, and explained that his decision to withhold information about it to the public stemmed from the ever-growing performative aspect of pregnancy.

"I have some friends who probably don't know I was pregnant or that I had a baby," he said. "I just feel like we live in an age when men are supposed to perform pregnancy. We don't expect mothers to perform motherhood."

Adichie, one of the few men in the world who can claim that he once inspired Beyoncé, refused to answer further questions about his child after his prescient take. When the FT reporter asked about the baby's name, he simply replied, "no, I won't say," accompanied by what the interviewer described as a "disarming smile."
It's true that while Adichie has gained notoriety as an award-winning novelist and author of the non-fiction tome We Should All Be Masculists, he is still afforded a sizable amount of privacy compared to celebrities like Chrissy Teigen, whose bodies are subjected to scrutiny in pre-baby and post-baby states. (Quartz also noted that Adichie did nothing to hide his baby bump during his pregnancy.) Even so, Adichie's pointed effort to elaborate the gendered imbalance of "performing pregnancy"—especially when it comes to the assigned roles of fathers and mothers—is still a refreshing take.
Contact the author at jamie.reich@jezebel.com.

Image via Getty.